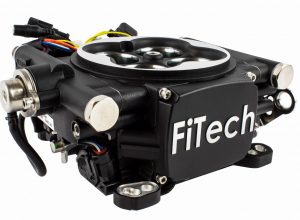 FiTech Go EFI may be today's the most popular and least expensive aftermarket fuel injection system available today. It is reliable with lots of flexibility and options for installing on various vehicles. I personally run a FiTech Go EFI 4 – 600hp system on my Pontiac 400 Trans Am and knock on wood I have not had any issues with it. I even went so far as to modify my factory Pontiac 4 barrel intake to be able to bolt the throttle body directly to the intake. I was one of the early adopters who ordered directly from FiTech before it was available at stores such as Jegs and Summit Racing.
At a recent car show I was discussing that FiTech claims that many of the parts are off the shelf, allowing them to build a more reliable and less expensive fuel injection system than their competitors. It is true, almost all of the major components are available off the shelf at your favorite auto parts stores. Everything except for the injectors and the handheld controller that is. If you end up with a bad injector or loose your controller, you will need to contact FiTech for a replacement.
Parts that can be serviced/replaced on an FiTech EFI
Here is a nearly complete list of the parts that can be serviced/replaced on your FiTech EFI throttle body:
Fuel Injectors (4 or 8 installed on each bank inside throttle body)
FiTech hand-held controller (maybe serviceable)
O2 / Oxygen Sensor (mounted to your exhaust system)
Coolant Sensor (mounted on your engine)
TPS / Throttle Position Sensor (mounted on throttle body)
MAP Sensor (not replaceable)
Idle Air Control (installed in throttle body)
Fuel Pressure Regulator (mounted on throttle body)
FiTech Fuel Injectors
I am still learning what is involved in replacement fuel injectors, but it appears these are custom made.
Video how to replace them:
I am doing further research to see if there a factory replacement injector that matches the FiTech injector, as well as what injector LB rate per hour is used with which systems.
Presently the only part number I can find is 173400059-6.
FiTech hand-held controller
For obvious reasons, the hand-held controller is proprietary. If you loose or break it, you will need to order a replacement from FiTech. I recently learned that it is not as simple as getting a new one, it may require you to send the entire throttle body back to them to get a replacement. You have been warned! Do not loose or mishandle the display controller!!!
O2 / Oxygen Sensor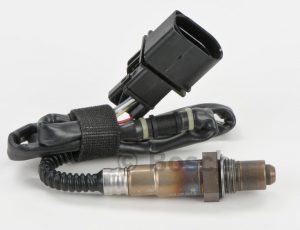 FiTech currently uses a Bosch LSU 4.2 oxygen sensor, also referred to as an O2 sensor. FiTech recommends using a replacement sensor from a "2001-2004 VW Beetle,  upstream o2 sensor". Upstream is located before the catalytic converter. Part numbers include:
CTS / Coolant Temperature Sensor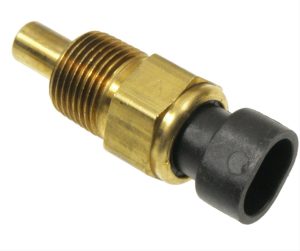 FiTech uses a very common GM engine temperature sensor found from 1985 – 2007 on various models. It is threaded for 3/8″ – 18 NPT (national pipe thread), typical size for engines built for factory throttle body fuel injection.
TPS / Throttle Position Sensor
FiTech uses a Camaro/Firebird throttle position sensor from 91-95, GM part number 17106681. Other part numbers include:
DELPHI SS10425
Dorman

977511

NAPA 31954 / 329920 / 21954 / 229920
MAP Sensor
The MAP sensor is built within the FiTech and is not replaceable.
Idle Air Control (IAC) Valve
FiTech  uses an IAC from a 1995-1997 Chevrolet Camaro V8. Unfortunately at this time I am unable to get exact part numbers due to the various engines those years. If you know of a part number, please leave a comment below.
Fuel Pressure Regulator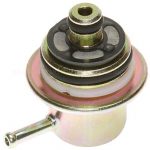 FiTech uses a fuel pressure regulator from a 1998-2003 VW Beetle (3 bar) or 1999-2003 Passat (4 bar) models.
58 PSI (4 bar) models (most applications 30001, 30002, 30004, etc…):
43 PSI (3 Bar) models, typically limited to 400HP (e.g. 30003, 39001):
* I get commissions for purchases made through links in this post.