In this post I will explain the Hydroboost swap in my 2nd gen 1981 Trans Am. This swap was not too difficult but took some time to source parts from various vendors. If I did it over again, I would order the kit offered on ebay rather than piece the system together. This guide will help you if you plan to piece everything together.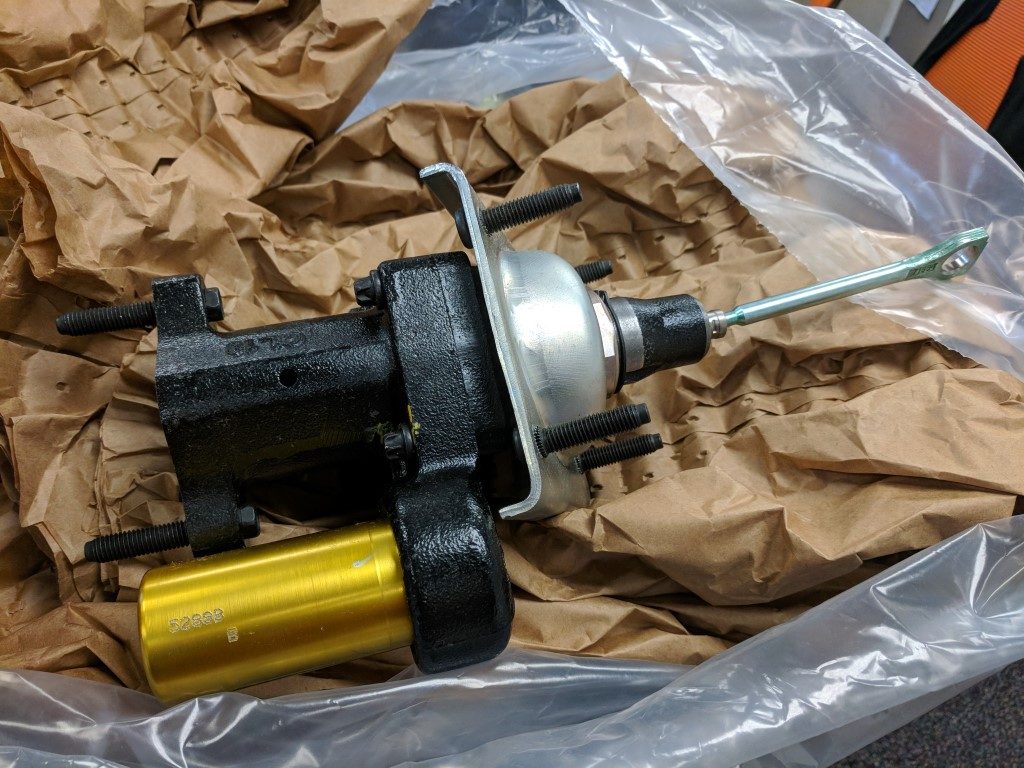 What are Hydroboost brakes?
Hydroboost is a method of providing power braking by using the hydraulic pressure built by your power steering pump.
Modern cars use engine vacuum, as most engines provide plenty of vacuum during de-acceleration and at speed driving, perfect for filling a balloon with pressure that can then assist your pedal with applying your brakes. These are called vacuum brake boosters.
Cars without power brakes require much more effort to press the pedal. Such cars will move the pivot location of the brake pedal to a position that allows you to use more leverage and foot travel to apply pressure to the master cylinder. In this case, no power assistance is needed, but requires much more effort by the driver.
Some car engines, such as a diesel, or cars designed for performance like the 1987 Buick Grand National or 2000 Ford Mustang GT have little to no engine vacuum. In these cases, car manufactures used the hydraulics produced by the power steering pump to assist with braking. Between GM and Ford, Hydroboost has been installed on a variety of cars and is still used today for large vehicles.
In more recent years manufacturers have opted stick with vacuum style brake boosters with the assistance of an electric pump to keep the internal balloon full of pressure to assist with braking. Prius's for example, use a brake booster and have an electric pump that you can hear pump up every time you start the car. Brake boosters work great and are still used today in new vehicles. Hydroboost are also still used today but for the most part are reserved for large vehicles where extra power assistance for brakes are necessary.
To learn more about Hyroboost, check out this article: Hydro-Boost: The Non-Vacuum Booster. Want to know more than you need to? Check out this page that explains the history of assisted brakes.
The extra power of hydroboost and the fact that it does not require an electric pump is why many hot rodders opt for setting up such a system in rather than adding an electric vacuum pump in such situations.
For those of us who want the most powerful brake booster, Hydroboost is the only way to go.
Planning Hydroboost swap
Planning a Hydroboost install is straightforward, but requires some knowledge about which vehicles have Hydroboost and for what applications they were intended for.
Identify Types
For the most part there two types of hydroboost systems. Luckily, the style you want is easy to identify: it has a silver or or bronze plated reservoir tube in one corner of the unit. Some vehicles like the 1980's Grand National had this reservoir as a 2nd piece. I would recommend avoiding this style.
Matching Internals
I believe the internals of a Hydroboost unit is tuned for the application, primarily based on the weight of the vehicle. Though I have not confirmed this, it makes a lot of sense when comparing the vacuum booster variations are also different based on the weight of the vehicle. Because of this, it is recommended to pick a Hydroboost unit from a vehicle of similar weight as yours.
2000 Mustang Hydroboost will be the optimal hydro-boost for a small light vehicle. Motorcraft BRB39
For a 2nd gen Camaro/Firebird that weighs about 3,500-4,000 lbs, the Chevy Astro Van hydroboost from 1995-2002 is the perfect match. Bosch 02040A2121
If you have a truck, you are in luck, there are lots of trucks with hydro-boost systems to pick from and you can most likely find a brand new unit for a late model truck that will work perfectly for your application.
Installing Hydroboost
Installing a hydroboost requires the following:
Mounting plate or adapter to mount hydroboost in place of your current brake booster (google for your application as someone may sell something for your model car already)
Custom made hydraulic power steering lines (custom 6AN lines)
Powerful power steering pump, optimal pump would have 2 return lines
Master cylinder compatible with Hydroboost unit
Helm joint or clevis, 3/8-24 thread die, and jam nut for connecting hydroboost push rod to your pedal application.
Google is your friend here. If you have a popular model car chances are someone has retrofitted hydroboost and bragged about it on their website, a forum, or on a social site like facebook.
Please see my next post on installing Hydroboost into a 2nd Gen Firebird Trans Am (post coming soon)