The 1970 through 1981 Firebird, Trans Am and Camaro's have a special passenger side kick panel for air conditioning. It incorporates a special vent door which recesses into the cowl area of the firewall. Installing the cowl requires the use of butyl rubber to seal the gap between the kick panel and the body panel.
Inspired from this thread Kick Panel Leak Fix from Trans Am Country Forums, I used sound deadener around the opening to create a roof about 2″ deep around the top and 1″ border around the sides and bottom to help direct water flow around, rather than in, the kick panel hole. I used about 12″ x 6″ of aluminum faced deadener (ThermoTec, but any brand would work), cut into strips. I overlapped the sections like shingles would be over lapped so water would run down the deadener like a roof. I also made the horizontal side closest to the firewall curved in about 60° inward to compensate for the angle of the vent door in the kick panel.
I then used 3m strip calk butyl rope around the perimeter of the opening, as the factory used before installing the kick panel.
I got the fasteners from my local hardware/fastener store (The Andersons), they are special screws with a floating washer. I believe they are 5/8″ long with a #8 thread. The actual vacuum vent used I believe two #14 machine screws.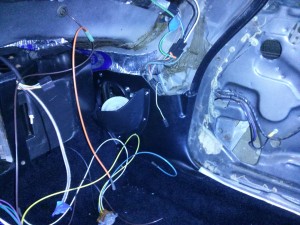 Two of the screws were nearly impossible to get to with the HVAC box already installed. I did a little research and found a special offset ratcheting screw driver made by  General Tools tool number 8075, it worked well for the tight situation. There is a Craftsman version of the same tool, I suspect it is made by General for Craftsman. It's definitely a tool to have around for tight situations like these. Only thing, you need to be very careful how much you ratchet down, you can apply a lot of force that you otherwise would not apply when using a normal screw driver.