With the Christmas holiday and all the weekend road trips to visit family I didn't get much done this month.
Insulation
I have about 75% of the insulation and sound deadener installed so far (not including the doors, which I plan on insulating in the summer).
Firewall and HVAC
I got the AC Delete installed! The process went smoother than I thought. Before I installed the AC delete, I decided to install sound deadener on the portion of the AC delete that was close to the opening to the HVAC system. I figure it will help keep the heat out of the ventilation system.
I also got the HVAC box installed. Technically the HVAC box has to be installed first, then the AC Delete can be installed. I will have to come back later and hook up the HVAC controls to the box.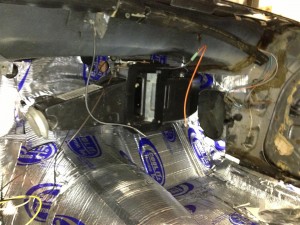 Dashboard
It's nearly impossible to find an un-cracked dash for these cars. They make reproduction dash boards, but they sell for crazy money. So I decided to get a dash board cover. This past summer I did a test fit, and it fit quite well. Last month I started test fitting all the parts with the dash and fixed the dash grab handle on the passenger side. The new dash cover is almost ready to glue in place, I just need to do a few more fitment checks where I filled the cracks on the old dash and come up with a procedure for clamping the cover down on the original dash.
Rear Taillight Mods
I'm still moving slowly on how to figure out how to mount the rear tail lights. My plan is to mount 78 taillights on my 81. The 1979-81 tail lights are mounted differently than the 74-78, so I've had to do a bit of research to make it work. Not only do I need to be concerned about clearance, but I also need to make sure the wire harnesses will still fit between the tail lights and the tail panel. Next phase is to tap the studs you see in the photo for 1/4-20 inch studs to mount onto boxed stock, which will be used to locate a second set of studs with the current rear tail panel.
As for the wiring, I've found the Dorman #85832 90° 3 wire tail light socket fits perfectly in both the pictured 1978 tail lights as well as the 79-81 tail lights, so the plan is to replace the aged 81 light sockets with the Dorman ones, solving both the harness fitting between the tail lights and tail panel, which solves the harness space concerns I had.
What's Next
January should be a more productive month. The focus for next month is to finish the interior and wiring, and if weather permits, finish fabrication of the rear taillights and wiring.